greenhouse for
contemporary art


Werner Kernebeck | HOME
14.11.2014. - 08.03.2015

Finissage / sunday, 08.03.2015, 5pm
Performance / David Braithwaite
Werner Kernebeck's installation 'HOME' floats like mist in the middle of the exhibition space, a regular glasshouse, but has more in common with the world of landscape architecture, than that of the hobby gardener. Werner Kernebeck, known for his many layered drawings and prints, whose structures often resemble city planning, or overlapping patterns, embraces the third dimension and presents us with a model landscape.
A tent-like canopy of semi-transparent reflective film, floats loftily and yet firmly grounded over a clearly defined rectangular field: a matrix-like space, like a 3-D chess board, into which natural and architectural elements are inserted. The metal skeleton of a spring mattress becomes the scaffolding for a model world of paper cuts, which proliferate over its many levels like plants over a trellis. The deep funnel-shaped spirals resembling craters or geysers, filled by Kernebeck with transparent plastic cups: an underground network of lakes connected by putative water veins, with glass dewdrops nestling amongst them.
Alone on the highest level of this landscape stands a house, also made of paper, resembling a scientific outpost in a Monopoly game far from Park Lane. A cartographers refuge perhaps? It could almost be for a character from "La Carte et le Territoire" by Michel Houellebecq. But Kernebeck's installation is not purely narrative, visitors to this house in a house in a house environment are treated to much more: a visual interplay of light and shadow, transparency and reflection. The floor of the glasshouse, mirrored with reflective film, reflects a single lightbulb hanging above to create an abstract light effect in the installation itself and in the outside area surrounding the glasshouse.
The whole landscape, a mirage in and around base camp, which attracts the attention of some unusual visitors...
(text: Frederik Foert)

Werner Kerneck | pressrelease


******************************************************************************************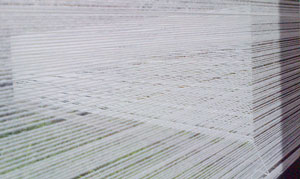 Preview:
20.03. - 01.05.2015
Hanna Lippmann | recall 04

Eröffnung, am Freitag, den 20.03.2015. 19 Uhr

Johanna Lippmann umwickelt das Gewächshaus super bien! vollkommen mit einer weissen Schnur und zwar in ausschließlich horizontalen Linien. Eine im Haus befindliche, großformatige Landschaftsfotografie ist so abwechslend zu sehen, nicht zu sehen oder nur zu ahnen. Das Haus als opakes bis transparentes Objekt reagiert auf das Wetter. Bei Tageslicht mit Sonne oder Wolken, oder rhythmisch eingesetzten Kunstlicht im Inneren des Hauses nutzt Johanna LIppmann die physikalischen Lichteffekte, die zu unterschiedlichen Wahrnehmungsmöglichkeiten führen. Die großformatige Schwarzweiß Fotoarbeit im Inneren des Hauses wird je nach Lichtsituation vor dem farbigen Hintergrund der Umgebung, als Reflektion auf die Lichtsituation durch die transparenten Flächen leicht in rot oder blau gefärbt sein.
Die Berliner Künstlerin Johanna Lippmann befasst sich hauptsächlich mit großformatigen Photoarbeiten. In verschiedenen Konzepten folgt sie Fragen der Wahrnehmung und der Verhältnismäßigkeit zwischen Mensch und Natur, Geschichte, Raum und Zeit . Die Fotografie, die im Gewächshaus zu sehen ist, entstammt der umfangreichen Werkreihe "Unterm Wetter". Diese befasst sich mit der stillen unfassbare Größe der Berge und dem Verhältnis zwischen Berg und Wetter. Hier liegen Schrecken und Idylle nah beieinander. In den Bergen verliert sich die Verhältnismäßigkeit von Höhe, Weite, und Entfernung in irritierender Weise. Weit entfernte Bergspitzen kommen unglaublich nah, wenn sich die Wahrnehmung in der Stille der Betrachtung ausdehnt, gleichzeitig ist jeder tatsächlich zu beschreitende Weg mühsam und weit. (www.hannalippmann.de).

Hanna Lippmann | Pressetext
*****************************************************************************************
09.05. - 27.06.2015
n.N.

*****************************************************************************************

03.07. -04.09.2015
Julia Sossinka | Furore

*****************************************************************************************

11.09. - 06.11.2015
Anna Borgman

*****************************************************************************************

actuell: 19.02.2015 | copyright by super bien! and the artists